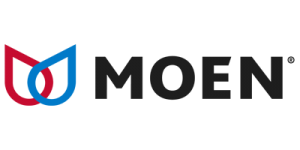 Moen is a true leader in faucet innovation having created the first single handle faucet in 1939. Since that time, Moen has been on the leading edge of design for kitchen and bathroom faucets, garbage disposals, sinks and bathroom safety. Through their desire to make a greater impact on our lives, Moen works hard to stay on top of the  game when it comes to water efficient products, without sacrificing quality and performance. They offer a large array of kitchen and bath products including shower heads, faucets, safety products, accessories, garbage disposals and kitchen sinks. Moen is a top choice in both residential and commercial buildings.
Installing Moen products are very simple.
Duralock® Quick Connect

Installation has never been easier. with Moens Quick Connect system making a connection is as easy as listening for the click once the connection is complete.

QuickMount™

There are many difficult aspects with dropping in a new sink. Moen's QuickMount installation hardware is jut the answer to solve this challenges. Spend less time under the sink and less time doing the installation.  The hardware is easy to tighten with their installation tool taking away the need for added tools.
Just A Small Sample of What Moen Has To Offer
MotionSense and MotionSense Wave™ touchless Faucets

A simple wave of the hand is all that is needed to run on your faucet

Power Boost™

Boosts the speed of the water allowing pots and pitchers to fill faster and a more powerful spray to clean 50% faster compared to other Moen pulldown or pullout faucets without this technology

Power Clean™

This adds 50% more force to the water flow so you can use less water to clean faster while reducing the splash in comparison to other Moen pullout and pulldown faucets.

Spot Resist™

Maintains the beautiful finish of your faucets without having to worry about extra cleaning

Reflex®

Make day to day tasks simpler with Moens effortless pulldown and pullout faucets