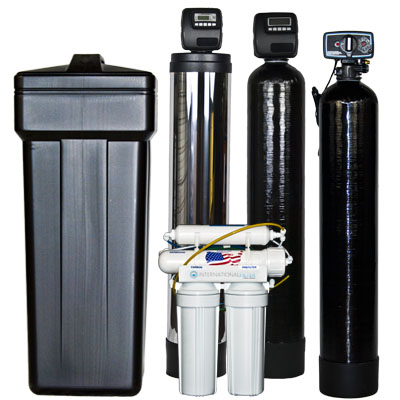 International Filter, a Van Marcke Trade Supply brand sets the standard for water purification systems. Whether you need a commercial, industrial or home water filtration system, just about any water issue can be solved through an International Filter water purifier system, water filtration system or water conditioning and softening systems.
Hard or water poor quality is a culprit behind many plumbing issues in every type of building. Lime and calcium build up are just a couple factors that can cause problems within water plumbing systems. Build up from these and other mineral types are very difficult to remove and can damage plumbing lines, water heaters and other components to a buildings water distribution system resulting in costly repairs.
The elimination of destructive minerals and other elements such as chlorine, odors, and metals that can be present in drinking water should be a top priority to ensure that the plumbing infrastructure will keep for a long time and the quality of water for drinking or other uses is not being degraded by harmful elements.
Removing various contaminants in water requires the use of a water treatment system like water filters, water purifiers, reverse osmosis systems, water conditioners and water softeners. There are many options available from International Filter that can solve all of these areas of concern safely and efficiently providing healthy, clean water for years to come.
Here are just a few areas where our water treatment solutions can be implemented:
Agriculture
Car Wash
Educational Facilities
Food & Beverage
Grocery Stores
Healthcare
Hospitality
Industrial
Laundry
Residential Property
Water Stores
Well Water
We can help you with any water treatment solution needed to best fit your situation. Give us a call or stop into a Van Marcke location to find out more information on International Filter products.