What brand of water heater is the most reliable? There are countless water heaters on the market, but today we will focus on RUUD. RUUD is one of the most reliable water heater brands on the market and we will explain why! Over 100 years ago, a Norwegian mechanical engineer named Edwin Ruud, developed the first successful automatic water heater.
With this remarkable feat, RUUD heating and air conditioning equipment was introduced in the 1950s. RUUD has grown into one of the most significant North American manufacturers of heating, cooling, and water heating products. Did you know that hot water on demand was considered a luxury before Edwin Ruud? The first automatic storage tank gas water heater was invented in the 1880s. These units went into production around 1889, and the patents followed soon after.
Ruud purchased the rights to his invention in 1897 and started his own company to make water heaters. RUUD became an industry-leading pioneer in water heating products for commercial, industrial, and home settings.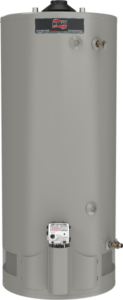 What brand of water heater is the most reliable you might be wondering? The RUUD Atmospheric Water Heater is engineered for more hot water at an extremely low operating cost! Van Marcke Plumbing Supply offers RUUD Atmospheric Water Heaters at low prices and is one of our favorite products. If you're looking for more hot water at low costs, this unit is for you!
Features:
Efficiency
58 – .66 UEF
More hot water at a low operating cost
Performance
FHR: 51 – 87 gallons
Recovery: 30.3 to 40.4 GPH at a 90° F rise, depending on model
Guardian System™ & Sensor
Exclusive air/fuel shut-off device
Maintenance-free – no filter to clean
Protective control system that disables the heater in the presence of flammable vapor accumulation
Low Emissions
Eco-friendly burner, low NOx design
Meets 40 ng/J NOx requirements
Longer Life Expectancy 
Premium grade anode rod that provides long-lasting tank protectionExtra features include: easy to light – no matches required. EverKleen patented system that fights sediment buildup, Rheemglas tank lining for corrosion resistance and prolonged tank life, and an enhanced flow brass drain valve.
For more information about RUUD Atmospheric Water Heaters, contact our sales team by clicking here!