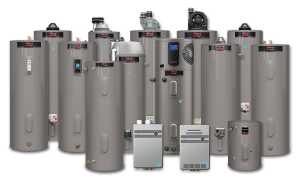 Founded by Edward Ruud over 100 years ago. Ruud who had come to America from Norway, had developed the first ever automatic water heater. Since then, they have become the largest manufacturer of water heaters and HVAC systems in the USA. Ruud manufacturers the most reliable and efficient professional water heating equipment on the market today.
RUUD water heaters are all about quality. Through heavy testing and extensive certifications from various governments and 3rd party test labs you can be confident that the highest quality standards are more than met. With a wide range of products to fit just about any heating or cooling need, you will find exactly the right product with Ruud. We proudly carry award winning RUUD Water Heaters at all of our Van Marcke locations throughout Arizona, Nevada & Texas.
Find These Professional RUUD Water Heaters At Your Closest Van Marcke Plumbing Supply
RUUD Gas Water Heaters

Regardless of your water consumption, they have a great selection of gas heaters designed to fit your needs. Get energy efficient options with capacities in the 125 gallon range for select heaters.

RUUD Tankless Water Heaters

Ruud is a leader in innovation when it comes tankless water heaters. The energy-efficient and space saving designs offer a non stop supply of hot water. These tanks ensure that hot water will never run out.

RUUD Electric Water Heaters

If you need an electric option for water heating, you will find many options available to fit your needs whether its a specific power requirement, energy efficiency or even a specific water volume usage. Their electric water heating products are designed for improved flow, energy efficiency and even large capacity needs.

RUUD Hybrid Water Heaters

Ruud's hybrid water heater is the perfect choice for anyone who wants the ultimate in efficiency and energy savings. Get fast hot water delivery beyond what most standard electric heaters provide with a simple and fast installation.